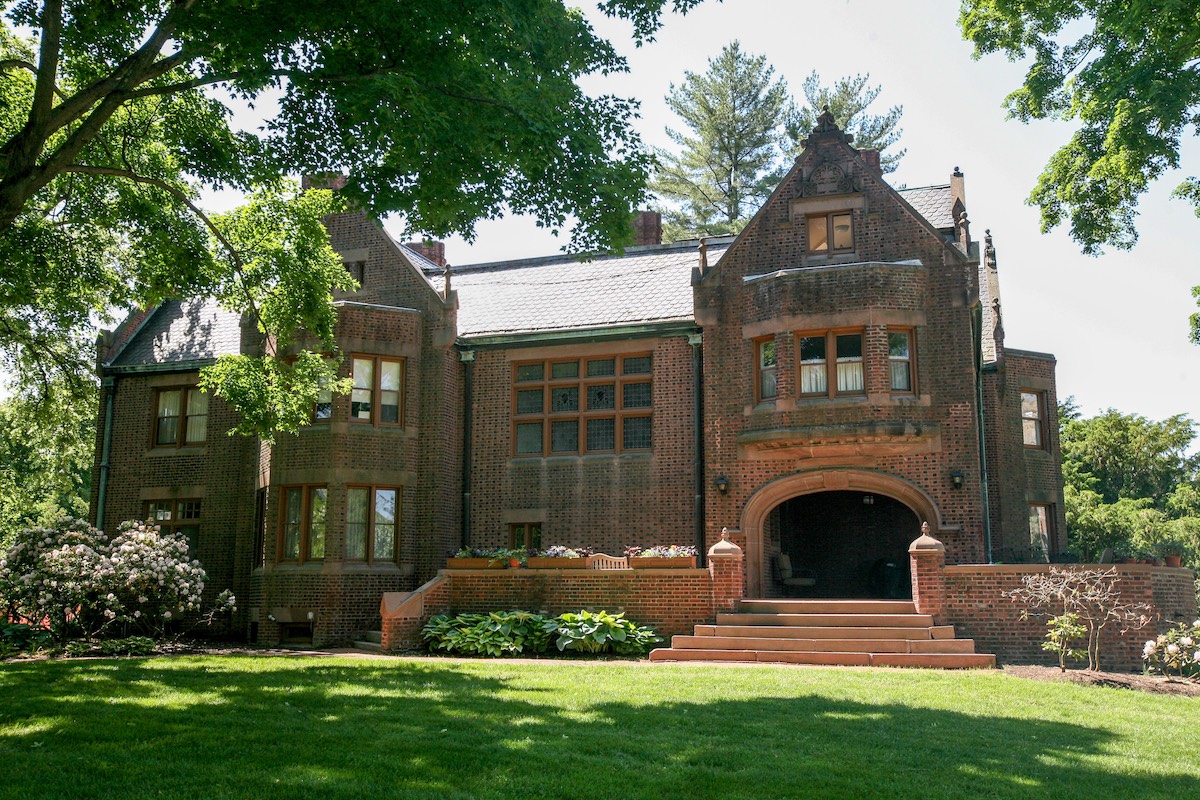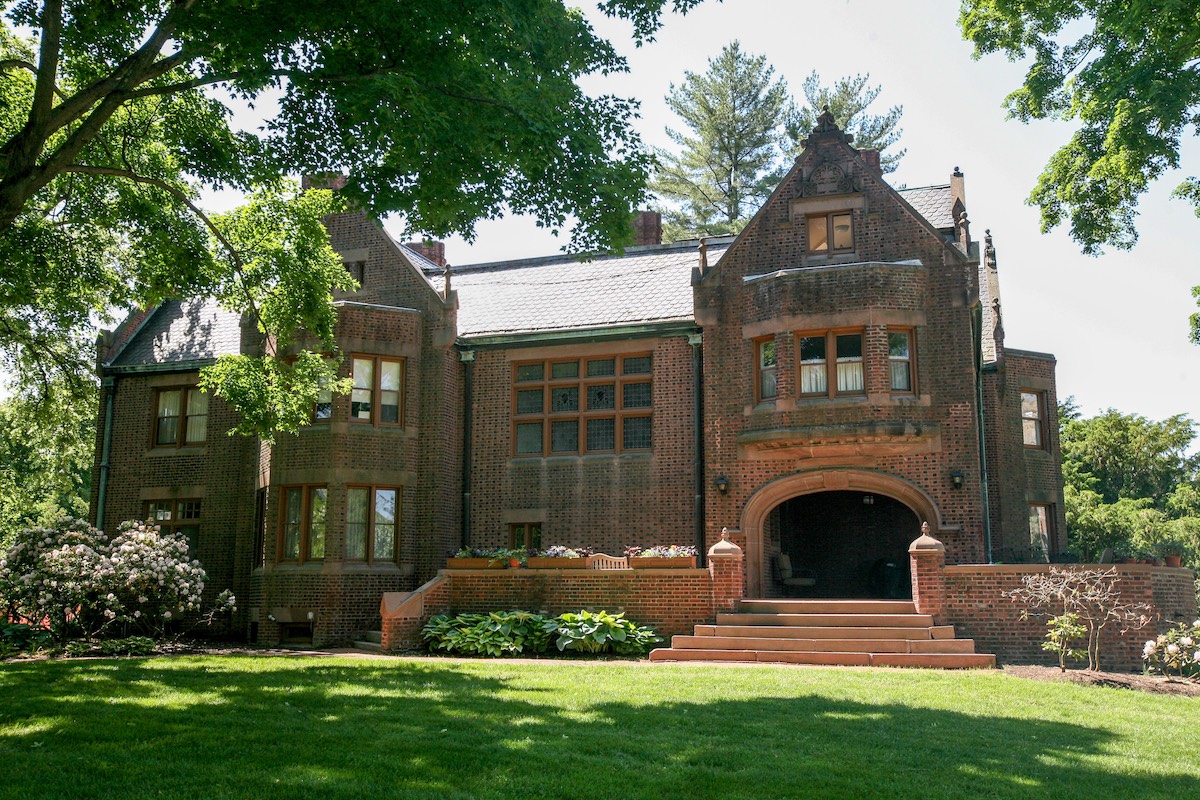 The President's House (1895)
Rossiter and Wright
President James Monroe Taylor's administration was a time of great expansion at Vassar. The construction of Strong House in 1893 marked the beginning of student residential life outside Main Building and allowed for increased enrollment. Faculty housing was still confined to Main; even the president and his family lived in an apartment within the building. Shortly thereafter, however, the exodus from Main Building extended to faculty as well, it being deemed necessary to open new spaces in Main for administrative offices and student rooms. Furthermore, some faculty members felt constrained living under the same roof as the student body, and a committee of trustees concurred that it "seemed necessary for certain members of the faculty to have greater quiet and privacy than [could] be found in the buildings of the college." Full professors were given permission to build their own houses on college property across Raymond Avenue, a move in accord with the goals of all.
In a similar spirit of change, the trustees voted in June of 1895 to build a house for the president and his family in observance of Taylor's tenth year in office. Funding for the project came from a bequest to the school from John Guy Vassar, Matthew Vassar's nephew. Several architectural firms submitted plans for the building, with the winning bid coming from Ehrick Rossiter of New York's Rossiter & Wright. Rossiter was known throughout New York and Connecticut for his beautiful summer cottages and mansions, especially those in a distinctive medieval revival style.
He designed for Taylor what he called "not a cottage but a dignified, well-constructed mansion," and although the college tried to reduce the cost to $15,000 from their promised $25,000, it was finally built in 1895-96 for $22,000. The house was used for events even before its completion, and Taylor and his family were able to move in in time for the beginning of the school year in 1896. They set a tradition of hosting campus events and student functions that was to remain, albeit sometimes with less frequency, as time wore on. The old Main apartment became student rooms and administrative offices.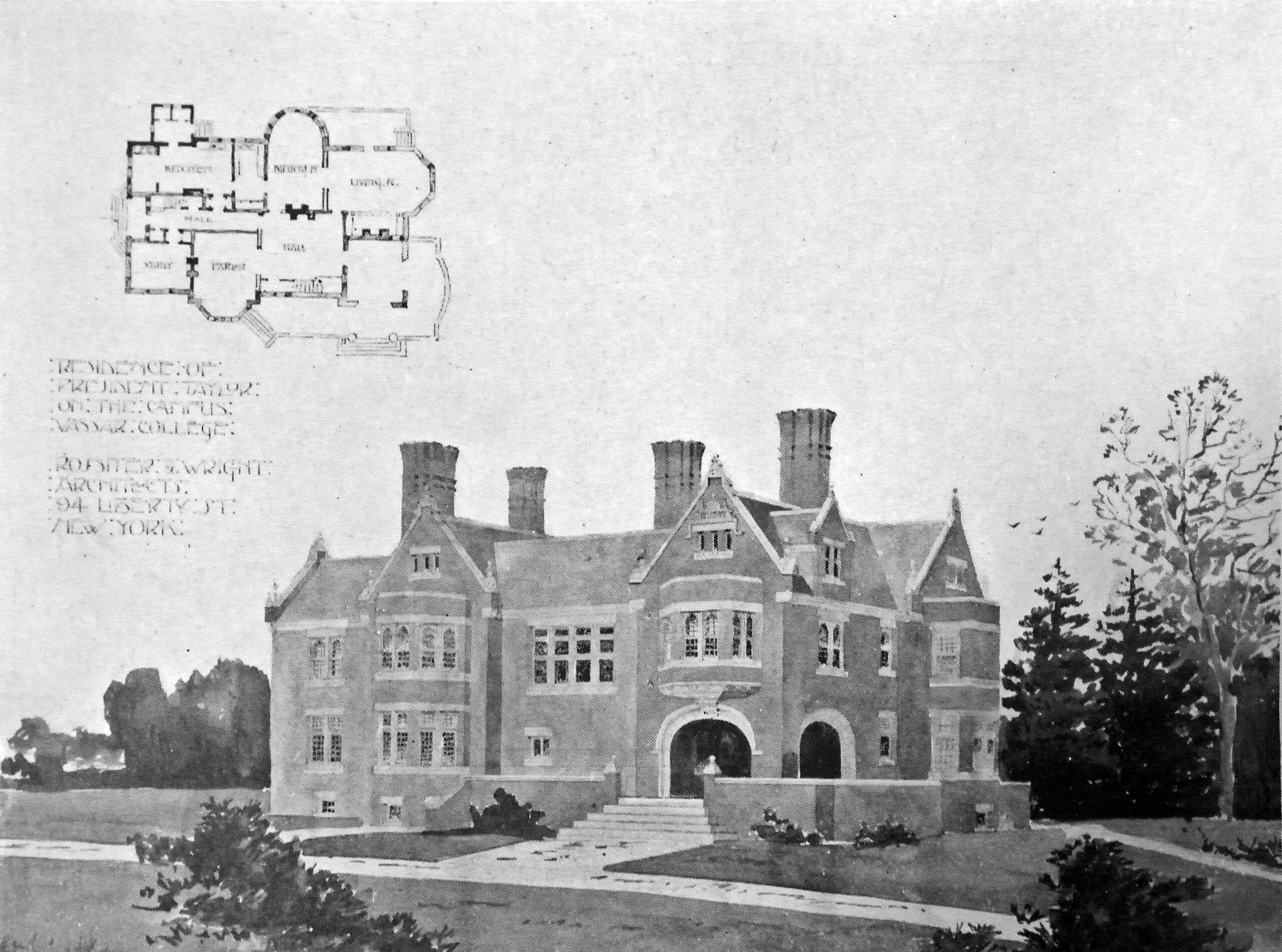 The exterior of the President's House is Flemish bond brick trimmed with sandstone. It features the arches, grand chimneys and gables, bay windows, and intricate brickwork characteristic of its late medieval revival style. The original interior followed a similar aesthetic, with rich dark walnut wood, heavy false beams and a stained glass window. Taylor lived there until his retirement in 1914, and the next year President Henry Noble MacCracken moved in with his family.
The MacCrackens kept the house more or less as it was, only adding a conservatory for Mrs. Marjorie Dodd MacCracken. MacCracken's son, Calvin, also made significant modifications to the building's electrical lines to help his mother turn on lights in multiple rooms by a pattern of several presses on one switch. But the house remained largely unchanged for its first fifty years.
In 1946, Sarah Gibson Blanding was appointed president of Vassar College. Given the choice to live in the President's House or the Hill House on Raymond Avenue, she decided to follow tradition and moved into the President's House, as she explained, "since the college had [already] broken tradition in choosing a female president." Unlike her predecessor, she did not unconditionally accept her new residence. The dark "gloomy" interior of the house did not fit Blanding's modernist sense of design, and she made extensive interior modifications. In addition to simplifying Calvin MacCracken's light switches, she moved to lighten the house and to remove, as she told Phyllis Mand '58 for The Miscellany News, "a lot of 'Jimcracks.'"
The dark walnut was painted over in light grey, the heavy false beams and stained glass window removed, the grand central fireplace replaced by a large mirror, and the conservatory replaced with a large porch on which Blanding felt she could "rock, yawn, and contemplate."
Further improvements to the house, especially to modernize amenities such as plumbing and heating, were done in 1964 during the time between Blanding's departure and subsequent president Alan Simpson's arrival.
The President's House today
No major renovations or changes to the building have been made since then. The President's House has housed every president since James Monroe Taylor and is more than just a dwelling. Its distinctive architecture set the tone for the other medieval revival buildings in front of Main, including such landmarks as the Chapel and the gothic Frederick Thompson Memorial Library. Presidents have hosted foreign dignitaries and grand dinners in the house and used it as a comfortable place to talk to students and faculty about issues important to the Vassar community.
---
Related Articles
President Sarah Gibson Blanding
Sources
Photo File 3.43: President's House, Vassar College Special Collections Library (VCSC)
Subject File 6.81: President's House, (VCSC)
The Vassar Chronicle 9/14/1946, "Pres. Blanding Discusses Summer Work and Home," Vassar Digital Newspaper Archive.
Van Lengen, Karen and Reilly, Lisa, The Campus Guide: Vassar College. New York: Princeton Architectural Press, 2004.
Vassar Board of Trustees Executive Committee Minutes, 1896-97. (VCSC)
Vassar Miscellany News, vol. XXXI no. 1, 11/11/1946, "Blanding Describes House Alterations; Backs Coop System," Vassar Digital Newspaper Archive.
Vassar Miscellany News, vol. XXXIX no. 14, 1/19/1955, "'Blanding's Way'—Miss B. Rebuilds Her Dream House," Vassar Digital Newspaper Archive.
---
ZB, TF 2013