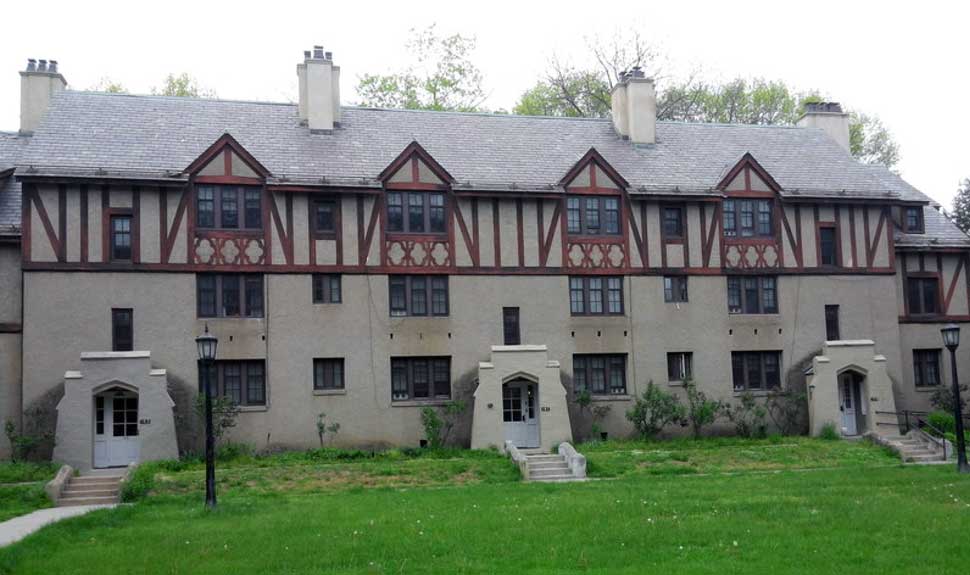 Williams House (1922)
Hunt & Hunt
"After many and diverse hopes and fears," announced the Vassar Quarterly in 1919, "a beautiful new house for the women of the faculty is actually given and will soon be begun." Constructed by 1922 in the presidency of Henry Noble MacCracken, Williams Hall was to fulfill a long hope. It was also the college's solution to a residential contention. From the college's beginning, unmarried women faculty lived in Main building. The lack of privacy in these quarters had long been a subject of faculty criticism, especially those whose residence there had spanned many years. Many male professors and their families had moved out of the college's central building starting in the 1890s, and many students had been dispersed to the quadrangle dormitories at this time as well. Yet in the midst of a period of rapid growth in the student population, Main was still housing a large number of students and female faculty. President James Monroe Taylor, in his 1910 Annual Report, had called on the college to provide housing that "would give the women of our faculty an independence and a freedom from the constant calls of student life."
After Tayor's retirement in 1914, President Henry Noble MacCracken had eagerly resumed the plans of providing independent housing for the increasing number of women professors. And for this purpose, Harriet Trumbull Williams, from the class of 1870, donated $100,000 to the college. This gift, donated in 1919, marked the occasion of her fiftieth graduation anniversary. Noting that she "wished to contribute to the welfare of women," Williams also asserted that "no group of professional workers seem to be more worthy of recognition through increased comfort in living conditions than those who have faithfully served Vassar College as professors and instructors." The contribution was also a testament to her interest in housing-related issues, an interest cultivated alongside her husband. The head of a steel foundry in Brooklyn, James H. William was known for providing decent housing and living conditions for employees. At the sod-turning ceremony in April of 1921, Mrs. Williams spoke of her excitement at wielding the historic "golden spade" used by Matthew Vassar to begin the construction of Main, and of recalling the advice during her time at Vassar to "guard it, cherish it, but above all use it." And with this she signaled a turning point in the college's history.
The architectural firm Hunt & Hunt, the designer of Alumnae House, was commissioned to design the neighboring faculty house. The three-story buildings at the corner of College and Raymond Avenue featured a Tudor revival and late Arts and Crafts style architecture. The Williams House's exterior "homelike look" of tile and stucco was reinforced by floor plans which granted each resident a bedroom, a living room with fireplace, kitchenettes, and other new amenities. English Professor Winifred Smith observed, "All the thoughtful consideration that has been spent on the plans, together with the placing of the building on the quiet, College Avenue side of the rock lot, will certainly make the completed house one of the most useful and most appreciated assets of Vassar College." Indeed, the building quickly became home as well to the occasional lecture guest, to "faculty at home" office hour sessions, and to "jolly open fires."
After nearly a century of its beloved serving as the home for many faculty members of the college, plans were announced in 2018 that Williams House would be removed to allow space for the forthcoming Inn and Institute for the Liberal Arts. The decision was met with mixed public reactions from faculty and Poughkeepsie residents, many of whom felt that it should be preserved.
The struggle attested to its remembrance as an integral part of the history of the college.
Sources
The Miscellany News
The Vassar Quarterly
---
ID, 2021