With a keen wit and distinctive visual style, Anne Thorburn Cleveland's cartoons of life at Vassar during the 1930s give vibrant insight into college life in the mid-twentieth century. Cleveland was born May 12, 1916, in Cincinnati, OH, and grew up surrounded by three brothers, including her twin Van. Her father, Stanley Matthews Cleveland, an Episcopal minister, died in 1927 of a blood infection, after which her mother Marian took care of the family on her own. Anne attended private schools in France and Switzerland, finishing her preparatory education at Abbott Academy in Andover, MA. She showed her talent for art early on at Abbott where she served as the literary editor for the school paper, The Courant, and as the chief art editor for her yearbook.
In the fall of 1933, Cleveland entered Vassar, while her brother Van went to study at the Naval Academy in Annapolis. Responding in her freshman year to a questionnaire from the Vassar College Personnel Research Bureau, Cleveland said she was most skilled at sailing, acting, and drawing.
She majored in art history, drew cartoons for a variety of campus publications and was appointed editor of her senior yearbook.
After graduating, Cleveland stayed on for the 1937–1938 academic year as an assistant in the Art Library, where she met Jean Anderson '33, another assistant. The pair, who had both drawn single-panel "gag" cartoons for The Miscellany News, began collaborating on a book of cartoons about Vassar students' daily lives. Published by the Vassar Cooperative Bookstore in 1938, Vassar was tremendously successful, going through several reprints and garnering attention and work for the pair from such magazines as Ladies' Home Journal, Life and Harper's Bazaar.
Cleveland spent the next year in New York City at the Art Students' League. Continuing their work together, she and Anderson published two more books about the college. Vassar: An Informal Study (1940) was a breakaway hit, receiving praise in The New York Herald Tribune as a significant sociological work, and Vassar: A Second Glance (1942) was also commercially successful, selling 20,000 copies in four years.
The Vassar series led to more projects for Cleveland. She went on to illustrate Henrietta Ripperger's A Home Of Your Own And How To Ruin It (1940), Priscilla Hovey Wright's Weeds Are More Fun (1941) and Jack Goodman and Alan Green's How To Do Practically Anything (1942).
When her freelance work began to slow, Cleveland moved to Florida to teach freshman art for the 1942-1943 academic year at Rollins College, where her mother served as dean of women. Cleveland left her teaching position in 1943 to join the Women's Army Corps, serving until the war's end in 1945. In WAC, she designed posters and filmstrips and worked briefly as a nurse's aide. After the war, Cleveland collaborated again with Anderson on Everything Correlates (1946) and, much later, on their final book together, The Educated Woman in Cartoon and Caption (1960).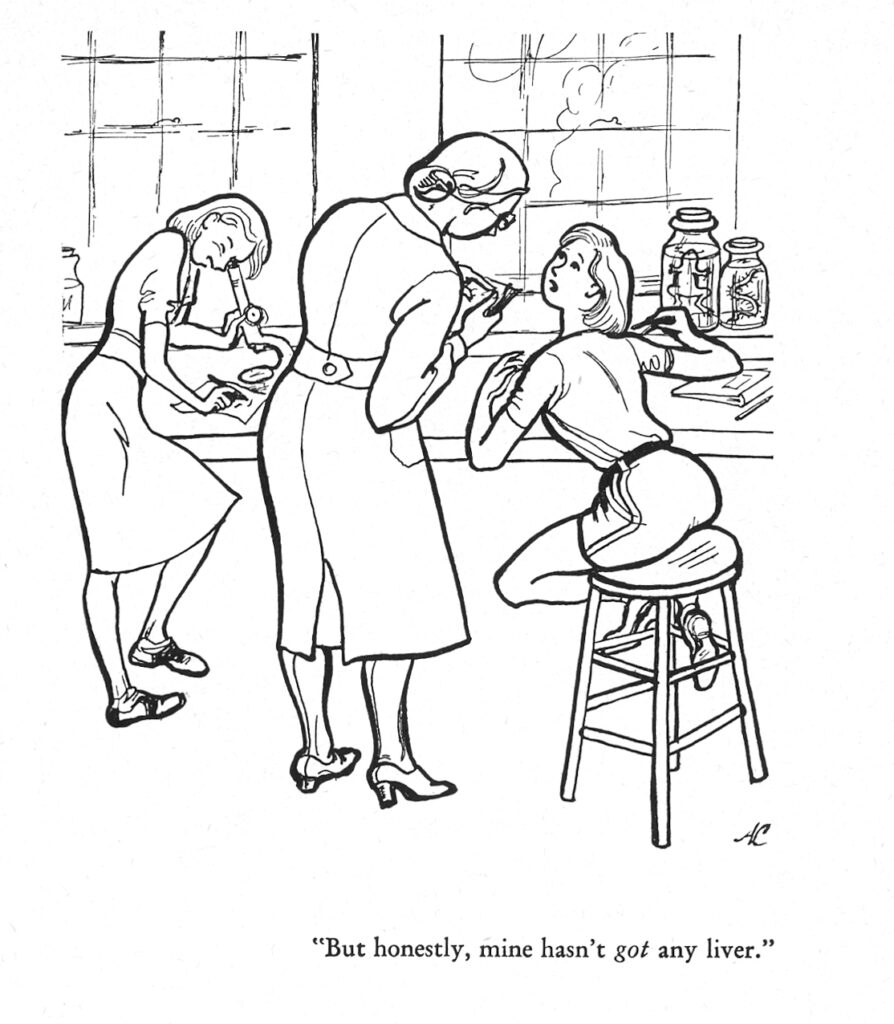 On June 11, 1949 Cleveland married Augustus D. White, an Englishman who had served as a captain in the Royal Marine Commandos during the war. The couple met when White came to the United States to train for film production job for a firm in Shanghai. After their marriage the couple moved to Hong Kong and Japan, where they lived for the next six years and where their children Toby and Susan were born. In Japan, Cleveland found inspiration for a new book: It's Better With Your Shoes Off (1955), a reflection on life as an American living abroad.
In 1955 the family returned to the United States, settling in Connecticut, where Cleveland continued cartooning. During this period, she wrote The Parent from Zero to Ten (1957), inspired by her own young family, and The Life-Savers (1952), a children's book. She also returned to collaborative work, publishing But I Wouldn't Want To Live There (1958) with Heather Jimenez and Straw In My Camel's Hair (1961) with Naida Buckingham and Ingrid Etter.
Cleveland was divorced in 1965, and she moved to Oregon to be closer to her daughter, a student at Reed College. Updating her Vassar classmates on her activities in 1975, she said she was "now living on a mountain homestead with goats and things, or 'How I retired at 55 and became a commune,' (more or less accidentally)." She continued cartooning for pleasure and doing some portrait work. Her work, along with that of Anderson, continued to be rediscovered and appreciated by later cartoonists. Writing in Vassar Quarterly in 2009, Thomas Hopkins quoted the Canadian cartoonist "Seth" (Gregory Gallant), author of the popular Palookaville comics as saying "he 'immediately fell in love with her brilliant drawings and her smart, innovative layouts.' It is, he said, 'a virtuoso act. Which makes it a shame that so little of her work seems to have been done. I wish there were 20 Anne Cleveland books out there.'" Told by her son of the renewed critical interest in her books shortly before her death at 92 in March 2009, she "certainly appreciated," he reported, "that her work was being re-examined and enjoyed by a new generation of artists."
---
Related Articles
Sources
Thomas Hopkins, "Anne Cleveland '37." Vassar Quarterly, Fall 2009.
Shaennon K. Garrity. "Anne Cleveland's Legacy at Vassar." Comixology.com.
Emma Carmichael. "Vassar cartoon collection still resonates after 67 years." Miscellany News, 11/18/2009.
"Anne Cleveland, 1916–2009." The Comics Reporter, 3/25/2009.
File, "Jean Anderson," Associate Alumnae/i of Vassar College (AAVC)
Vassar College Special Collections Library (VCSC)
---
LG, MB 2012